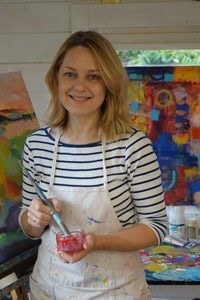 Jessica Brown is willing to accept commissions
I'm an abstract painter working from my studio in Warwickshire, creating paintings which I hope are joyful, layered and evocative.

I often include mixed media elements in my paintings to build up layers of marks and texture, obscuring and revealing, to create a beautiful, multi-layered surface. Inspiration for my paintings comes from many sources, but
the idea of travelling and connecting underpins many of my paintings. Whether that be travelling across the world, wandering the streets of Paris, or discovering hidden gems in the local neighbourhood. It's the connections made along the way – whether to people or places – that makes the journey so interesting.